The Archbishop, Ecclesiastical Province of the Niger, and Bishop of Awka Diocese, Most Reverend Alexander Ibezim says songs and praises are important in the worship of God . Archbishop Ibezim, stated this during the 2020 grand finale of Awka Diocesan Music Festival at Saint Faith's Cathedral Church Awka.
Emmanuel Chigbata reports that it was a soul lifting renditions of hymns, Psalms and canticles both in English and Igbo compositions by different Choirs in Awka Diocese who dressed in different designed robes and chanted to the tune of orchestras.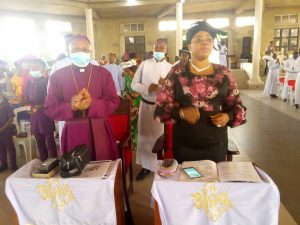 Saith Faith Cathedral Awka, the venue for the music festival was filled to capacity by clergymen, musicians, lovers of music, lay dignitaries and people from various walks of life.
Archbishop Ibezim in his speech, asked youths and choristers of the Diocese to remain resilient and dedicated while rendering praises to God either through hymns, choruses or any other means.
The Prelate who said he is a music lover and supporter of music charged the clergymen to always encourage choristers, in their service to God and the church .
The Chairman and Musical Director of the Diocese, Sir. George Ezenwa explained that God endowed mankind with wisdom and knowledge to apply them in the worship of His name from ages to ages, stressing that the essence of music to human life is unquantifiable.
Sir George, added that the musical concert was aimed at encouraging congregational singing in all churches within the Diocese, while expressing gratitude to Archbishop Ibezim for his great support to the music committee.
The music festival consists of four grade adult choirs, and a grade of Children's choir in which St. Jude Church Choir, Adazi Ani took the first position under Super Grade, while Our Saviour's Church Choir Awka emerged the winner under Grade One Choirs.
Under Grade Two Choirs, St Luke's Church Choir Agulu took the First Position, while Saint John's Church Choir Ichida took the first position under Grade Three choirs
For the Children's Grade Choir, St Jude's Church Choir Adazi Ani, emerged the winner.