In Line with the Igbo value of being their brother's keeper, a Charity foundation known as lgbos Love Themselves Charity Foundation has extended its hand of Love to eight indigent patients who have been in the hospital for months, due to inability to pay their Medical bills.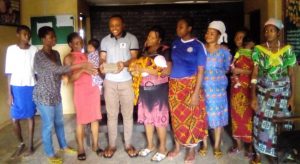 The foundation offset their bills worth four hundred and eighty thousand naira at the New Mayor Hospital lyienu Ogidi, Idemili North Council Area.
According to the Founder, Igbos Love Themselves Charity Foundation Worldwide, Mr. Matthias Ejiofor represented by the Programme Officer, Mr. Chukwujekwu Nnabude, the Foundation believes that man can provide solution to another man's problems as a prayer answered, pointing out that Ndi-Igbo are known for Charity and selfless love among themselves and called on good spirited individuals to show love to people in need.
He explained that the goal of the Charity Foundation is to ensure that the less privileged individuals in the society both within and outside Igbo land are catered for.
While commending the Medical Director of New Mayor Hospital Iyienu Ogidi, Dr. Boniface Ossai for his magnanimity in providing surgical operations to three of the
patients free of charge as well as offering some discount on the total bills to be paid, Mr. Ejiokor urged other Medical Doctors to emulate such kind gesture by placing
humanity first before money.
Responding some of the patients, including Mrs. Oluchukwu ThankGod from Ebonyi state, Mrs. Amarachi Ugwuanyi from Awka, Mrs. Onyinye Umeobiaeli from Imo state, Miss Esther Offorkaja from Delta state and Mrs. Nkemdilim Nwude from Enugu state who said that they wete overwhelmed with joy expressed gratitude to
God and the Founder of the Foundation for coming to their aid.
Speaking to the ABS in an interview, the Medical Director of the Hospital Dr Ossai noted that Igbos Love Themselves Charity Foundation is a challenge to them as Medical practitioners in lending helping hands to the less privileged individuals and the needy who come to the hospital for medical service with little or no money to avert avoidable death, and urged his colleagues in the medical practice to imbibe the habit of assisting the sick, while calling on the government to support the lgbos Love Themselves Charity Foundation in saving lives, adding that giving back to the society through Charity is a right step in the right direction.