The Managing Director of Awka Capital Territory Development Authority, ACTDA, Venerable Amaechi Okwuosa has said that it will cost Anambra State Government nothing less than twenty million naira to procure and install the wire mesh barricades along the Awka axis of Enugu-Onitsha Expressway, pulled down by hooligans during the #EndSARS agitations.
Venerable Okwuosa who disclosed this during an interview with the ABS in Awka noted that the state government has already made contacts with the suppliers and would soon begin re-installation as soon as the products, which are mostly imported from South Africa, arrives.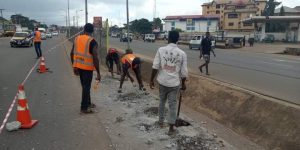 During the violent phase of the #EndSARS protests, hooligans capitalized on the absence of security agents to unleash crimes including destruction and looting of public property.
The wire mesh barricade put up by the Awka Capital Territory Development Authority, ACTDA, to prevent pedestrians from crossing the expressway and to also give the capital city some aesthetic looks, were also pulled down at the period.
Venerable Okwuosa noted that the state government intends to buy the same quality of the equipment which he said was both durable and weather proof, adding that in the meantime, tape barricades and warning notices have been placed at the various openings to ward off pedestrians from crossing the ever-busy expressway.
The ACTDA boss who stated that even though the constitution provides for expression of one's rights, destroying public property as a retribution for political and social neglect was counterproductive, as the property belongs to all citizens including those who loot or pull them down.