The Traditional Ruler of Ihiala, Igwe Thomas Obidiegwu and the entire
Ihiala Community rolled out their drums to celebrate this year's new
yam festival.
The colourful event which was aimed at showcasing the rich cultural
heritage of Ndi Igbo was held at Okohia Royal palace of Igwe
Obidiegwu.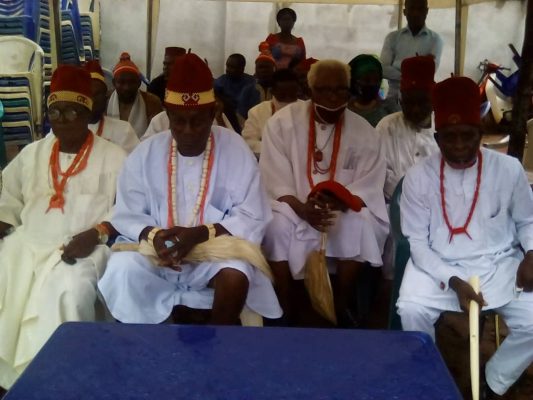 The celebration was heralded with a pontifical mass celebrated by the
Vicar, Immaculate heart Parish Okohia, Reverend Father Samuel
Akubuenyi.
New yam festival is an annual event in every Igbo land aimed at
thanking and appreciating God for a successful planting season and
bumper harvest of farm produce.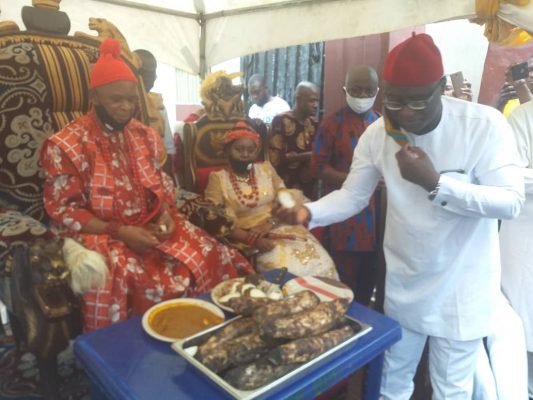 Ihiala Community no doubt deemed it necessary to follow suit by
celebrating its own new yam festival with pomp and pageantry though in
a low key and under the observance of COVID-19 Pandemic protocols of
hand washing and wearing of face masks.
The Traditional Ruler of Ihiala, Igwe Obidiegwu while addressing the
people stressed on importance of love, unity and peaceful coexistence
among the Villages in Ihiala which according to him will, enthrone
progress.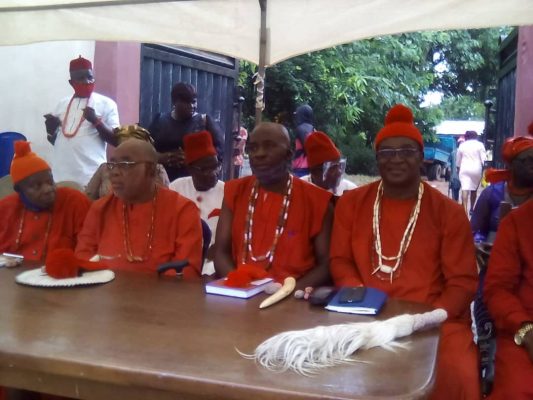 Igwe Obidiegwu commended the entire community for their support in
ensuring the success story of Ihiala Town while appreciating the
efforts of Governor Willie Obiano for setting the motion right toward
contending COVID-19 Pandemic in the State.
Earlier in a homily, the Vicar, Immaculate Heart Parish Reverend
Father Akubuenyi, urged the people to eschew bitterness and rancour,
love their neighbours, uphold justice and fairness as well as lay a
good legacy for the younger generation to emulate.
Speaking to the ABS later in an interview, the State Commissioner for
Information and Public Enlightenment, Mr C-Don Adinuba, stated that
every second Saturday in September is set apart by the community to
celebrate its new yam festival, saying that he feels elated that his
town is the most peaceful community in the State.
Commissioner Adinuba called on the people of Ihiala to continue to toe
the path of peace, unity and solidarity, while urging aggrieved
parties to come back for reconciliation for the progress of the town.
In separate interviews, the President General Ihiala Progressive
Union, Chief Okey Chukwu, Former Member Representing Ogbaru two
Constituency in the State House of Assembly, Mr Benson Nwawulu and the
Chairman iri iji 2020 Planning Committee, Chief Alphonsus Ohazulike,
expressed satisfaction with the success of the event, describing the
New Yam Festival as the Cultural Heritage of Ndi Igbo which must be
upheld.
Highpoint of the event was cutting and eating of the Yam
paying of homage to the Igwe by various groups as well as traditional
dance by the traditional ruler.