The Funeral Ceremony of the Late Ogbueshi Celestine Izuchukwu Osajindu also known as Akunne of Ire Village, Obosi, Idemili North Council area, did not only showcased him as a custodian of Igbo culture and tradition but also portrayed him as a committed member of Obosi Catholic Community.
The Late Ogbueshi Celestine Izuchukwu Osajindu who died at the age of eighty three was a member of Catholic Men Organisation of St Theresa's Catholic Church Obosi.
Correspondent Emengini Osadebe who covered the funeral ceremony reports that the event was a Carnival of a sort.
It was indeed the departure of an Ozo titled man and a member of the prestigious Ogbueshi Obosi as all his funeral rites were accorded him.
The late Ogbueshi Osajindu who was survived by his wife, eight Children, many grand children and Relations retired as Quality Control Manager of Premier Beer Breweries Onitsha.
In his Homily during the requiem mass on his honour at St Theresa's Catholic Church Obosi, the Parish Priest Reverend Father Paul Ejikeme who regretted the inability of Nigerians to place their priorities aright attributed various economic and social crisis in the country to misplaced priorities.
Reverend Father Ejikeme bemoaned the situation where people spent fortunes during burial ceremonies in Igbo land while their neighbours are hungry, and called for a change while condoling the Osajindu family over the death of their father whom he described as a truthful man who had played vital roles in Obosi community and urged them to keep their father's flag flying.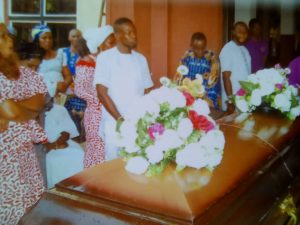 Speaking to the ABS in seperate interviews, the Special Adviser to the Governor on Special Duties, Honorable Tina Onwuachu and the General Manager of a Community Bank Mr Emeka Anijionye condoled the Osajindu family especially the daughter of the deceased Mrs Ifeyinwa Chukwulobe, urging them to always remain United.
On his part a member of Igwe in Council Chief Godwin Osakwe described the late Ogbueshi Osajindu as a man who lived a decent life worthy of emulation called on his children to toe their father's foot steps while praying God to grant m eternal rest.
One of the son's in law Chief Nonso Chukwulobe said the late Ogbueshi Osajindu was like a father to him, describing him as a truthful man whose kindful nature endeared him to his family and promised to continue to assist the family he left behind in any way he could.
The son of the Deceased, Mr Dumaka Osajindu described his father as an outspoken man and a disciplinarian who does not spare any of them when they go astray and promised to uphold the legacies he left behind.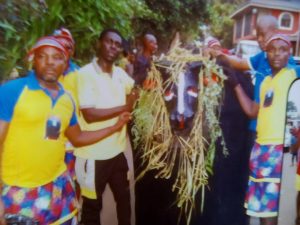 The funeral ceremony featured condolence visits by various groups who have come to pay their last respect to the deceased while Traditional dances as well as Masquerade displays added colour to the event.