For the first time in decades, members of local government employees brought out time to relax, dine and wine and make merry as one indivisible family as they trooped out in their numbers from the twenty one Local Government Areas of Anambra State to be part of Welfare Day and Comrade's night of NULGE.
The event organised by the Anambra state President of Nigeria Union of Local Government Employees, NULGE, took place at Njikoka council Secretariat, Abagana.
The event featured March past by local government workers from all the twenty one council areas, as spectators including the National President of NULGE Comrade Ahmed Labu represented by the National Secretary Comrade Emeka Agwu-Oye watched with keen interest.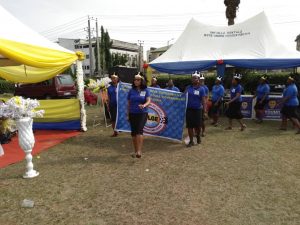 Addressing workers at the event, the Transition Committee chairman Oyi Council Area Mr. Nnamdi Nwadiogbu, commended the NULGE executive for such initiative especially honouring the late Austin Ezepue, and for bringing the workers together as one family, urging them not to relent.
In an address, the State President of NULGE Comrade Chikwelu Adigwe while welcoming local government workers to the event, commended Governor Willie Obiano whom he called alert governor and workers friendly, for providing enabling environment for workers to discharge their duties and also extolled the Chairman of Anambra state Local Government Service Commission Mr. Peter Egenti and all the local government Commissioners for prompt conduct and release of staff promotions, conversion and advancement.
The arena became charged when members of the NULGE executive for the first time, presented symbolic cheques to over five hundred retirees most of whom are aged and physically challenged.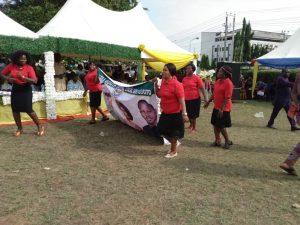 Distinguished personalities including the Commissioner's One, Two and Three respectively, Dr Uju Okeke, Chidi Anyaeji and Ugochukwu Ezeani were given awards of various categories for their contributions to welfare of workers.
The Transition Committee chairman for Oyi council area Mr. Nwadiogbu was equally awarded for his outstanding performance in the local government system.
The workers later treated themselves to sumptuous dishes and assorted drinks.