It was an expression of gratitude, victory and thanksgiving as
Reverend Canon Benjamin Osisioma celebrates seventieth birthday and
retirement from active service.The thanksgiving service which took place at Saint John the Divine
Church Parish, Ngozika Estate, Awka was presided over by the
Archbishop Eccliastical Province Of The Niger, Most Reverend Alexander
Ibezim and attracted other Bishops, clergy, Academia, ANAN Members,
friends and well wishers who came to rejoice with Reverend Canon
Osisioma.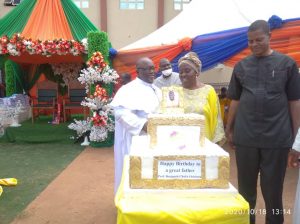 Religion Correspondent, Amaka Chibuzor Okoye attended the service, and reports that the Archbishop, Eccliastical Province of the Niger, Most Reverend
Ibezim said that God, through the celebrant has touched so many lives
because of his humility and kindness
Most Reverend Ibezim who is also the Bishop Of Awka Diocese, disclosed
that now is the time for Reverend Canon Osisioma to mentor, do the
work of discipleship and groom others for the service of God
describing him as a man of integrity, honesty, humility and most
importantly, true servant of God.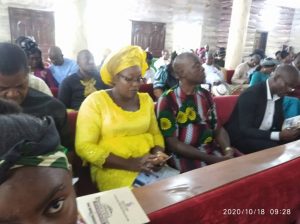 Earlier in a sermon titled "final retirement report", Reverend Canon
Professor Anayo Nkamnebe x-rays the importance of showing gratitude to
God for great things He has done, calling on people to impact people's
lives so as to be remembered for their good deeds.
In their speeches, Reverend Josiah Anyanwutaku and Sir Noel Okoye
unbehalf of the Parochial Church Committee said the celebrant has used
his wealth of knowledge to transform their church, describing him as a
true man of God who practices the undiluted word of God.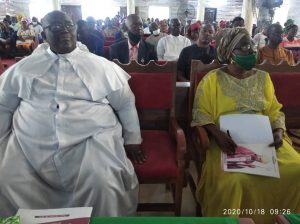 Speaking shortly after the service, the Chairman on the occasion,
Professor Emma Okoye noted that Reverend Canon Osisioma derives joy in touching lives , molding younger souls for a better life
and never stresses his students rather embedded them with the
knowledge and virtues of life.
The celebrant, Reverend Canon Professor Osisioma who said he
felt highly elated, fulfilled and excited, prayed that he will see God
face to face at last and thanked God for his grace and the people for
celebrating him.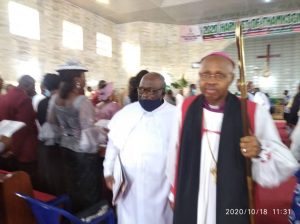 Most Reverend Ibezim later pronounced the celebrant as a Canon in
Anglican Communion.
Former Dean, church of Nigeria, Most Reverend Maxwell Anikwenwa, Bishop of Ihiala Diocese, Right Reverend Israel Okoye were among the dignitaries that attended the service.
Cutting of cake and unveiling of inspirational book featured at the event.